2012/13 Wedding Photography
Price List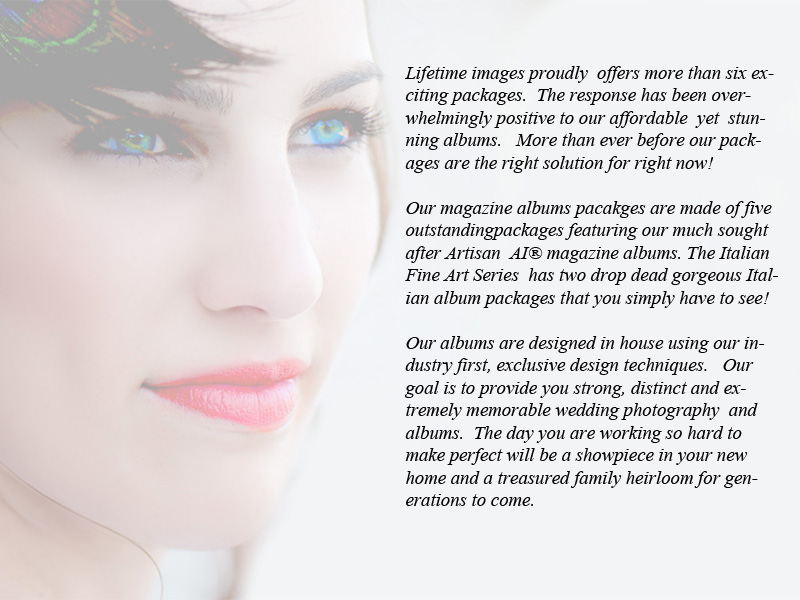 Magazine Album Packages
Lifetime Images means business. When we say "Affordable Excellence" we mean it! We've just upped our game once again, now making our offerings even more attractive. We actually lowered our prices for our magazine album packages! Our magazine album packages feauture the Artisan AI® line of magazine albums which are proudly made by hand in Southern California. We find that they are wonderful compliment to our wedding photography . You'll be thrilled with your magazine album for many years to come!
Amber-$1395- This is an outstanding package! Wedding photography and a wedding album for such a low price your head will spin. And guess what, it's even lower on non-Saturdays and for military and first responders. You also get your high resolution files!!!!
Indigo-$1495 - The Indigo package is a great album package at a great price. You get 8 hours of coverage and a 40 side album and your high resolution files on DVD. For many of our bridal couples this is an ideal package. Using our Excellent Upgrades section you can custom build this album package to a custom pacakge that will be ideal to your taste, desires and situation. We'll work closely with you to ensure that you get exactly what you want. If you are having a smaller wedding off season or not on a Saturday and are looking for lower priced alternatives please let us know, we have a scalled down version of the Indigo package.
Iris- $1595 The Iris Pacakge is essentially the Indigo Pacakge with a bridal album that is 44% larger! As you can imagine this makes a huge difference. The images are larger and easier to see and the overall impression is greatly enhanced. There's a reason why Iris is one of our top selling packages of the year. Using our Excellent Upgrades you can take this album and create a custom package. The Iris pacakge is a simply stunning, it's a must see album package!
Jade- $1795- The Jade Package is the first in a series of album packages that include parent albums. It's the same album as the Indigo package with two parent albums. The parent albums are replica 6"x 6" versions of your bridal album. Each page, and each image will be in your parent album that was in your bridal album. Everybody gets to share your wedding day!
Periwinkle- $1995 This is a limited time package. Periwinkle is like the Indigo package but the price has the cost of an album size upgrade from 10"x 10" to 12"x12" factored in along with the cost of a 6"x6" replica parent album. The second parent album is a free upgrade, and the kicker is the Genuine Leather cover is also a free upgrade. This is a special deal we have worked out with the album company and will only be valid with contracts established before June 30th of this year.
ITALIAN FINE ART SERIES
The Fine Art Series offers unmatched quality and value, displaying your wedding in one of the world's most amazing books.  It's little surprise these are some of our top selling packages. Our couples simply fall in love with the beauty of these books and enjoy retelling the story of their wedding day with family and friends in a stunning format certain to impress.
The packages feature in-house custom designed layouts, which are then handcrafted in Italy. The books include custom photo covers and the highest quality printing in the world.  Every order is custom-made and offers numerous upgrade options like distinctive covers, papers, protective lamination, and copies in all sizes. 
Think these books are special enough to hold the story of your big day? Discover for yourself!
Naples Package-$1995
Italian Elegance- People are amazed at what they get with this package. It features a beautiful highly customizable 40 side 12x8 wedding book with custom photo cover and two exact replica parent albums. 9 hours of coverage ensures you'll have plenty of time to capture those memories of a Lifetime. This package is ideal for a large to average size wedding. Click on the package link to get all the details.
Tuscany Package-$2395
Same elegance-just on a larger scale.  It features a beautiful, highly customizable 40 side 9.5 x 13 wedding book with upgraded custom cover of your choice. When opened the book displays 19"x 13"on every page spread, which is quite impressive.  9 hours of coverage ensures you'll have plenty of time to capture those memories of a Lifetime. This package focuses on creating amazing impact with a large book, but don't worry, if you're parents are jealous, you can always add on book copies a la carte. This package is ideal for a large to average size wedding. Click on the package link to get all the details.
Extra & Other Album Options
Excellent Upgrades- Not finding exactly what you are looking for, or would you like to custom tweak our pacakges? Go for it! Add more parent albums, dress up your album cover, get a second photographer, and get what you want! With Excellent Upgrades you'll be on your way to custom designing your dream package. Feel free to ask us any questions you may have along the way!
Engagement Albums/ Signature Mats- We have some exciting ideas about how to display your engagement images at your wedding. Perhaps you have your own ideas as well. We have the traditional signature mat that we have been offering for nearly 15 years, and yet we have more exciting things to offer you such as engagement albums and images on DVD that you can use for your save the date card, wedding invitations, and gifts.
Traditional Albums-Every once in a while we get a client who wants nothing more than a traditional album. Yes, we are amazed when they ask for them too. Anyway, if this is you, don't worry, we've