Gallery
These images are all from 2010 weddings.
Trying to view these images on an IPad or IPhone? Click here and see if you can watch it in HTML5.
Excerpts from client album layouts
With the price list completed, this section is next to get a makeover. In the meantime we're putting up our newest section, which are expects from our clients wedding albums. We think a great way to see our work is to not just look at one image at a time, but at jobs we've done for other clients. This section is work in progress so please do check back to see what's new.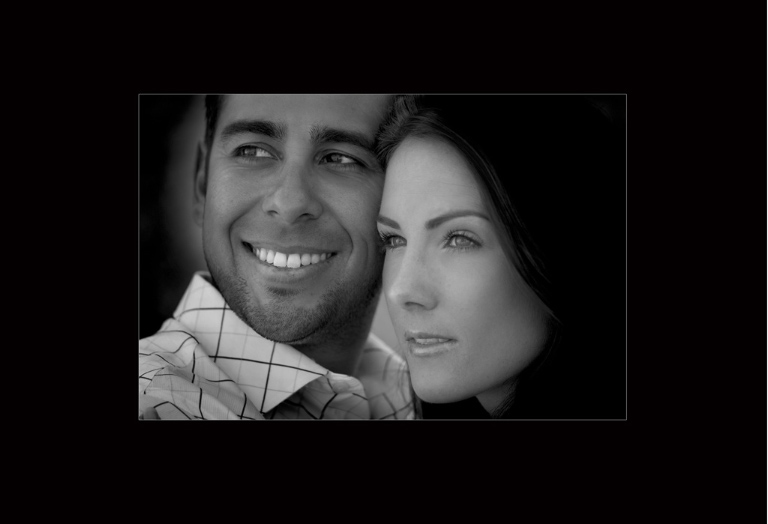 Kellie was a bridesmaid at a wedding we did six years ago. It's a long story but we ended up going down to Cabo San Lucas to do her wedding. Her album was 100 pages long. And she had a second reception back home. This was a huge project and if these people weren't so wonderful to work with I wouldn't know what to do. They made a stunning couple and now they are going to be parents! Congratulations! Please CLICK HERE to see their album!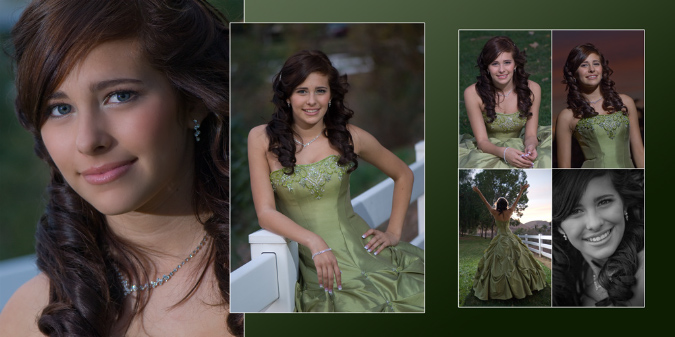 This was a Quinceera! The girl was off the charts stunning! Please CLICK HERE to see their album!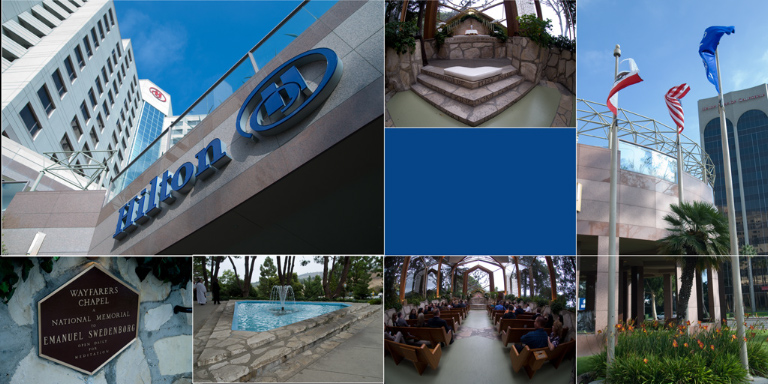 This was a very likeable couple who got married at the Wayfarer's Chapel and had their reception at the Long Beach Hilton. Please CLICK HERE to see their album!

This was a lot of fun! Held at a private residence in San Clemente if for no other reason you need to check out what a stunning woman Bobby was able to marry. This wedding was off the hook insane! Please CLICK HERE to see their album!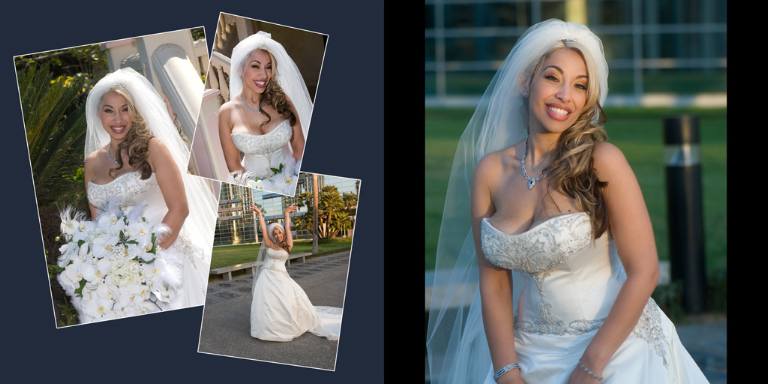 This bride is Egyptian/American. Though we've had the pleasure to work with so many wonderful brides Brigitte was hands down one of the nicest. She said it was her dream for her wedding to end up as a demo. You can see some of her album images in The Fusion Package section. Some of the images are from her home, others are from her middle eastern Christian church and others on the grounds of the Crystal Cathedral. Oh, how we had a great time. And she's got a totally awesome sister with a great career who is totally cute as well, single and ready to mingle! Please CLICK HERE to see their album!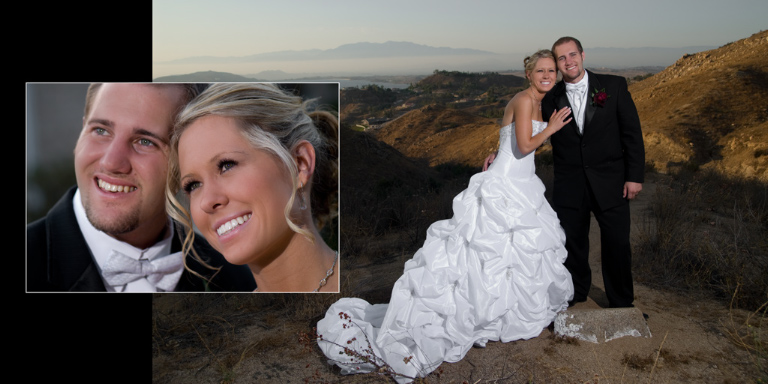 This is actually the full album. It was a Pacifica Package. The wedding was held on her parents estate. The white rock they are standing in front of in the above image is the exact spot where where her parents got married 30 years earlier. These kids really are this cute in reality as are all their friends! Please CLICK HERE to see their album!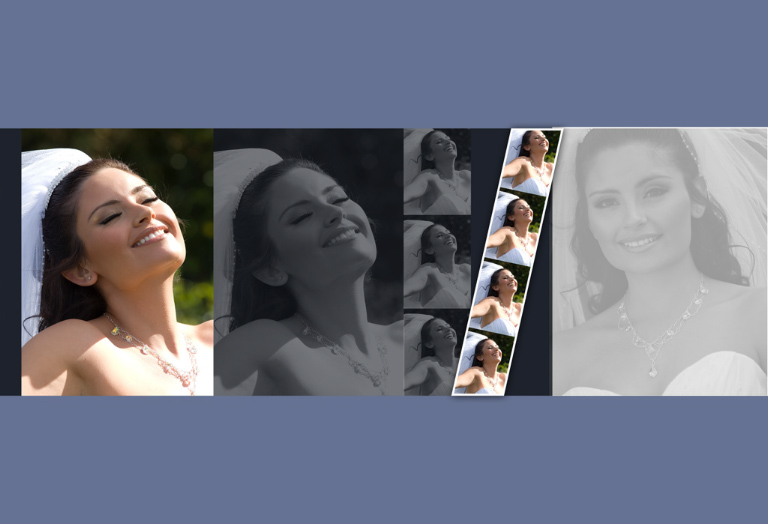 This wedding was at Ponte Winery in Temecula Valley. It was just about a perfect day, and the couple was extremely attractive. It's the cool thing about Southern California, you can have a beach wedding, a mountain wedding or a winery wedding. It's all doable! Please CLICK HERE to see their album!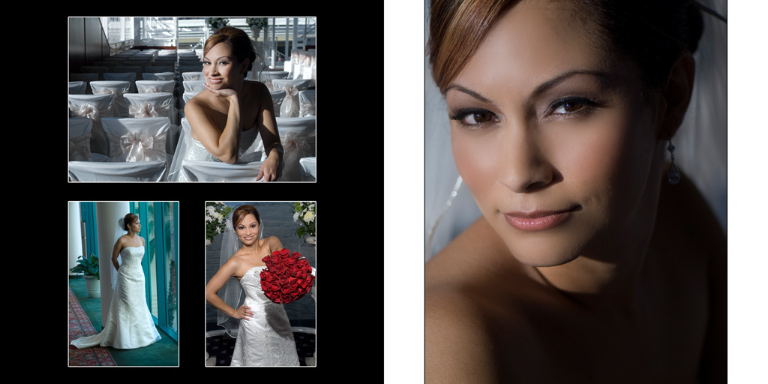 The big picture on the right was taken on a Yacht with strong sunshine coming from a window on the left. It was dramatic lighting, and just the same horrific lighting because it made her skin look really bad, to the point that I didn't want to show her the images. I don't believe in using Photoshop for making skies purple, or doctoring up a bad image. I do believe that its wonderful for images like this where it can bring timeless beauty to an image.
This was a Newport Beach Yacht wedding. Please CLICK HERE to see their album!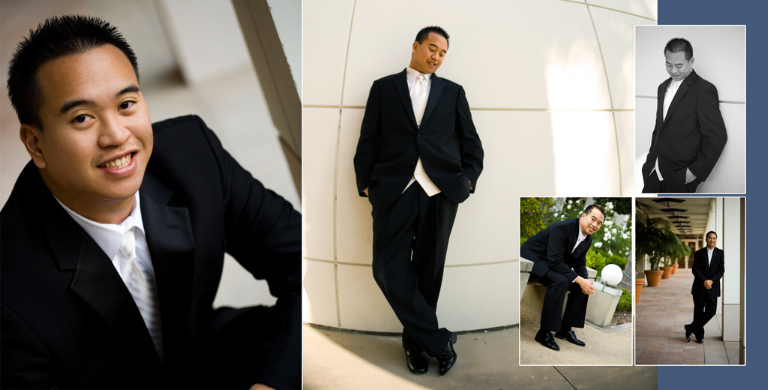 This was a combination effort between myself and the ever so lovable Amie. I really love Amie's style. She came to us wet behind the ears but with such a natural ability to shoot well. She's a riot to have at weddings because she is on the ground one minute and hanging from a tree the next minute.
This was a Nixon Library wedding on one of the nicest days we've ever seen there. You can probably find this wedding on 12 other websites because there were guests firing away with their cameras to the point that they were walking around the bridal party during the ceremony taking pictures! We got that under control fairly quickly however. Please CLICK HERE to see their album!
Watch out for this- We've been seeing a lot of disturbingly bad wedding albums that don't look professional. Often it's not the photography, but the way the images are displayed that looks bad. Click here to see what we mean.
Classic Slide Shows- Proof that we've been doing timeless wedding photography for a long time!